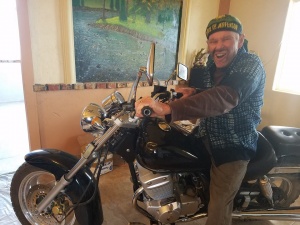 There are growing signs that Donald Trump's presidency may be the most irrelevant since William Henry Harrison's, who came down with pneumonia after an interminable outdoor inaugural and died a month later.
Here are some of the signs that indicate the irrelevance of what Donald Trump is saying and why we shouldn't take it seriously or fall into despair.
Last week I watched a conference on C-SPAN in which Susan Rice, the outgoing National Security Advisor, exchanged hugs with Mike Flynn, her replacement in the Trump administration. Flynn in turn gave sincere recognition to Madeline Albright's contributions as Secretary of State. I was struck by the cordial atmosphere at the conference.
A few days later I heard John Kerry say that foreign policy under Trump won't be much different than under Obama. Then I noticed that many of Trump's nominees for cabinet positions were walking back and even contradicting some of Trump's outrageous and incoherent claims, particularly on climate change and renewable energy.
Even Rick Perry, who looks so much more intelligent in his new "smart glasses," admitted that he regrets what he said about abolishing the Department of Energy and that climate change is real. Ironically, there was explosive growth of wind farms in Texas during Rick's administration.
Regardless of what Trump's administration attempts to do about renewable energy, fossil fuels are on their way out. Two of the four largest coal companies have gone bankrupt and more and more businesses are seeing the profit potential of renewable energy. The global momentum to deal with climate change is an inexorable process and all the tweets in the world will not stop this from happening.
Of course, not all Trump nominees will end up as moderates or garden-variety Republicans. Unfortunately, his nominee for Secretary of Education, dingbat Amway billionaire Betsy DeVos could screw up the Department of Education even more that it already is. The U.S. is rated below most developed nations in education. Finland was next to the U.S. five years ago and has risen to number one by eliminating homework and having extra-long unstructured recesses.
Also, Steve Bannon, the Goebbels wannabe who is Trump's White House advisor, is losing influence and Trump is losing support among white supremacists.
These are indicators that it might not be as bad as it looks, and anyway fear, hatred and anger directed toward this pathetically flawed real estate salesman is not the solution! If we can't work with him, let's work around him.
In the words of Michelle Obama, the most exceptional person to grace the halls of the White House, "When they go low—we get High!"
Cheers,
Larry