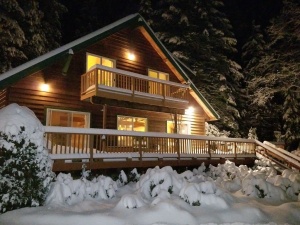 Well, this is a season for peace and reconciliation for the Wardwell family. After a disastrous family feud over the election we have come to terms with the result and are moving forward with our own individual plans for the future.
Larry was stunned when he found out that Donald Trump had read his article in the Huffington Post comparing him to Jesus Christ. In his article, Larry mentioned that Trump and Christ had a lot in common: they were both in the construction business. Christ was not just a carpenter, but also a builder of high-end luxury condos. However, they were very different in terms of outcome. Christ just didn't have the charisma and negotiating skills that Trump has and ended up a loser and being "nailed" by the Romans.
Trump was so impressed by Larry's intellectual prowess and ability to communicate the innate genius of Donald's plan to Make America Great Again, that he offered him a job as speech writer.
Linnea has also made a great connection with Melania, Don's wife. Linnea has been chosen to lead her Permaculture Initiative. Melania was very active in the Slovenian permaculture movement and was responsible for many sustainable sewage systems. They are planning a demonstration system on the White House grounds with a pond and a swamp that will treat the sewage from the White House. This will support a wildland habit for African game animals that will allow the Trump boys to kill their favorite animals without the need to travel to Africa.
One good thing that has come out of Hilary's devastating defeat is that, through their connection with the campaign, Devan and Sarah will both be working on an exciting new project sponsored by the Clinton foundation. It's a job-creating program for young women interested in the hospitality industry. They are developing a new type of sports S and M motel called "Locker Up". All the interns applying for the program will be personally vetted by the Foundation director Bill Clinton.
Have a great holiday!
The Wardwells
NOTE: This letter is part of a yearly tradition of holiday letters spanning at least two decades, delivered as an antidote to the usual family letter in which they brag and you gag. If you'd like to be on the email list for future letters, please use the contact form and let us know!